We have built a credible reputation in the bee products market nationwide with four generations of hands-on beekeeping experience behind us. Dedication to the natural foods and supplement industry has been the focus of Y.S. Eco Bee Farms since its inception in 1985.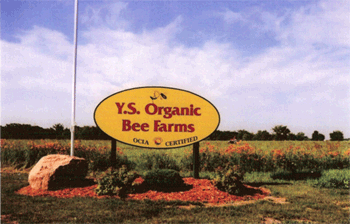 Our long term commitment to organic bee products lead us to intensive research and development. 1995 was a landmark year, a launching point, for Y.S Eco Bee Farms becoming the pioneer in producing and marketing organic honey granted by O.C.I.A. organic certification. (In 2001 organic standards to the USDA/NOP ~ United States Department of Agriculture / National Organic Program).
We have established a close knit working relationship with dedicated beekeeping farms in the U.S., Canada, Brazil and New Zealand to meet with the ever-growing demands as the major supplier of bee products to the natural / health food and grocery industries.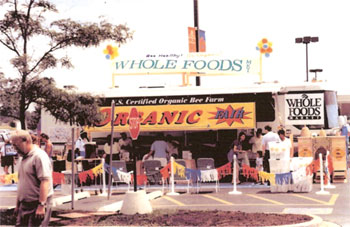 Organic Fair held at Whole Foods Market
Specialty products, such as ours, require both retailer and consumer education. We have previously held exciting Organic Fairs drawing over 1,000 people a day as we toured around the Midwest region and offered tens of thousands of people the opportunity to learn the basic principles of beekeeping, organic benefits and awareness. Our fully-equipped mobile unit allowed the community to get "first hand" experience with lectures, samples and visual aids (displaying a see-through beehive with live bees including Queen Bee) was educational and stimulating for all who were privileged to be involved.
We have a longstanding history of sales coast to coast through corporate accounts such as GNC, The Vitamin Shoppe, Wild Oats Markets, Whole Foods Markets and over 4,000 health food retailers.
Our entire staff remains fully dedicated and committed to living a healthy lifestyle and serving the natural and organic products industry with PRIDE!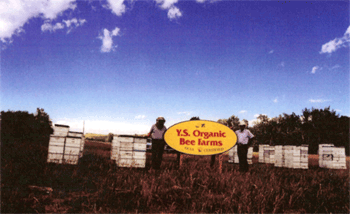 1995